Garden for Birds Pictures - Backyard Birds of Modesto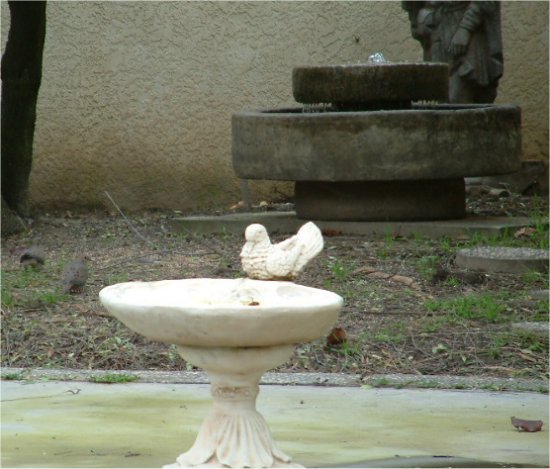 The Dove, Sparrows, Jay like this backyard area. They like the ground, the fountain, and the nearby greenery. After putting in this running fountain, the birds are staying longer and visiting more often. Also more varieties of birds are appearing.

The bubbler on the top of the fountain produces a soothing sound. The birds now meditate in this corner area and enjoy eating seed from this ground area.

In November, a Robin perched on top of the fountain, stretched his neck over the bubbler and let the water hit against it's neck, enjoying the water.

If you notice, the ground has roots, small limbs, clods of dirt and stones...all provide a type of soothing camouflage. The birds also like the variety of bush, tree areas which they can spend time in after bathing and feeding.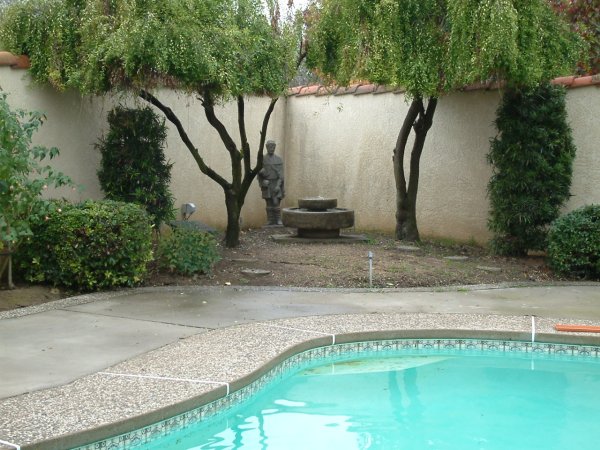 The birds also use the bushes and trees for quick flights across and around the backyard.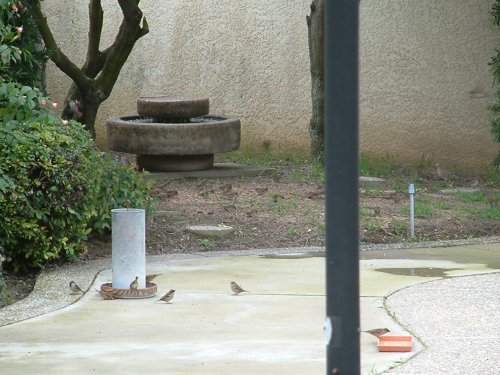 In this view you can see more birds feeding at one time. Sparrows in silver cone feeder, tray and ground. The dove on ground (right).
Use your BACK button to return
MATERIALS NOT FOR USE ON OTHER WEB PAGES WITHOUT PERMISSION
Copyright © Carolyn Passalaqua ALL RIGHTS RESERVED
Email